Accessories
Totes, purses, backpacks, covered buttons, key fobs.... all become something really special when they are embroidered!
We also offer custom made phone cases, ear-bud cases, iPad cases, e-reader cases, and zipper bags in a variety of sizes. Available in custom fabrics, with and without personalization.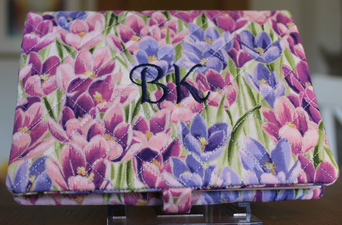 This quilted photo album / brag book holds a selection of 10cm x 15cm photographs in a portable collection. Great for baby gifts, new moms, grandmothers, or for kids to collect pictures of their friends - the possiblities are endless! Available in a wide variety of fabrics, with monograms, names, or sayings.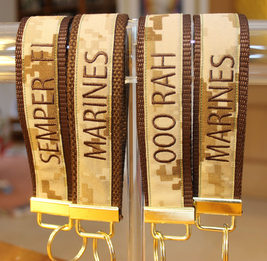 Honor your US Marine with a key fob made from authentic Marine Desert Camo fabric. The back side can also be embroidered with a name, in the style of uniform name tapes. Also available in US Army fabric for those who love their soldiers, too!