Limited Edition Blanks
Sometimes I find special items particuliarly suited to beautiful embroidery which are not generally available here in Germany. In some cases I have a limited number in the studio, in other cases additional quantities may be available by special order. If you see something you like, please contact me directly.
Retro Insulated Lunch Boxes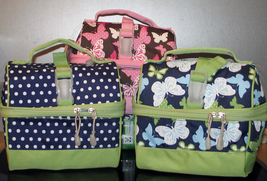 From our favorite store for kids gear in the USA, Pottery Barn Kids, these retro insulated lunchboxes are stylish and have room for lunch and a drink bottle inside. Embroiderable on the front pocket under the zipper.
Currently in the studio:
Blue with white dots (1)
Blue with light blue and white butterflies (1)
Chocolate with pink and white butterflies (1)
Teddy Cuddle Bankets and Stuffed Animals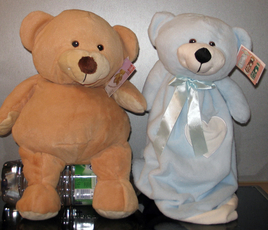 The teddy cuddle blanket is available for special order in blue and pink. Stuffed animal head and arms integrated with a super soft cuddle blanket, which can be embroidered with baby's name and birth date.
The stuffed animal teddy is 16 inches tall and cuddly soft. The name and birthdate or a design can be embroidered on his tummy. He is available for special order.
Currently in the studio:
Blue teddy cuddle blanket (Sold out)
Stuffed animal teddy (1)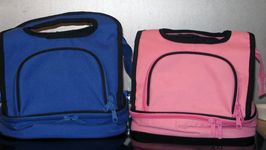 These insulated lunch totes can be embroidered with a monogram, name, or design on the zipper pocket inthe front of the tote. Not just for kids, but also suitable for adults. Integrated handle with full zipper closure. Can be special ordered in a variety of colors.
Currently in the studio:
Blue insulated lunch tote (1)
Pink insulated lunch tote(1)
Personalized Christmas Stockings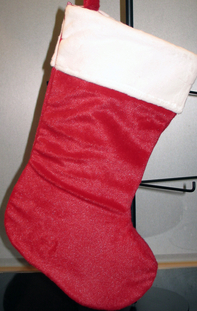 Celebrate Christmas with personal stockings which coordinate for the entire family! Put a name on the cuff, and add a design underneath to help make your stockings your own. Each stocking is 16 inches long and made of a soft, fuzzy fabric.
Available by special order, I will also have a very limited number of stockings in the studio. To guarantee that I'll have enough to make your order, please reserve your stockings early. I'm already taking orders!